Sports
Ranking the goalie tandems of all 32 NHL teams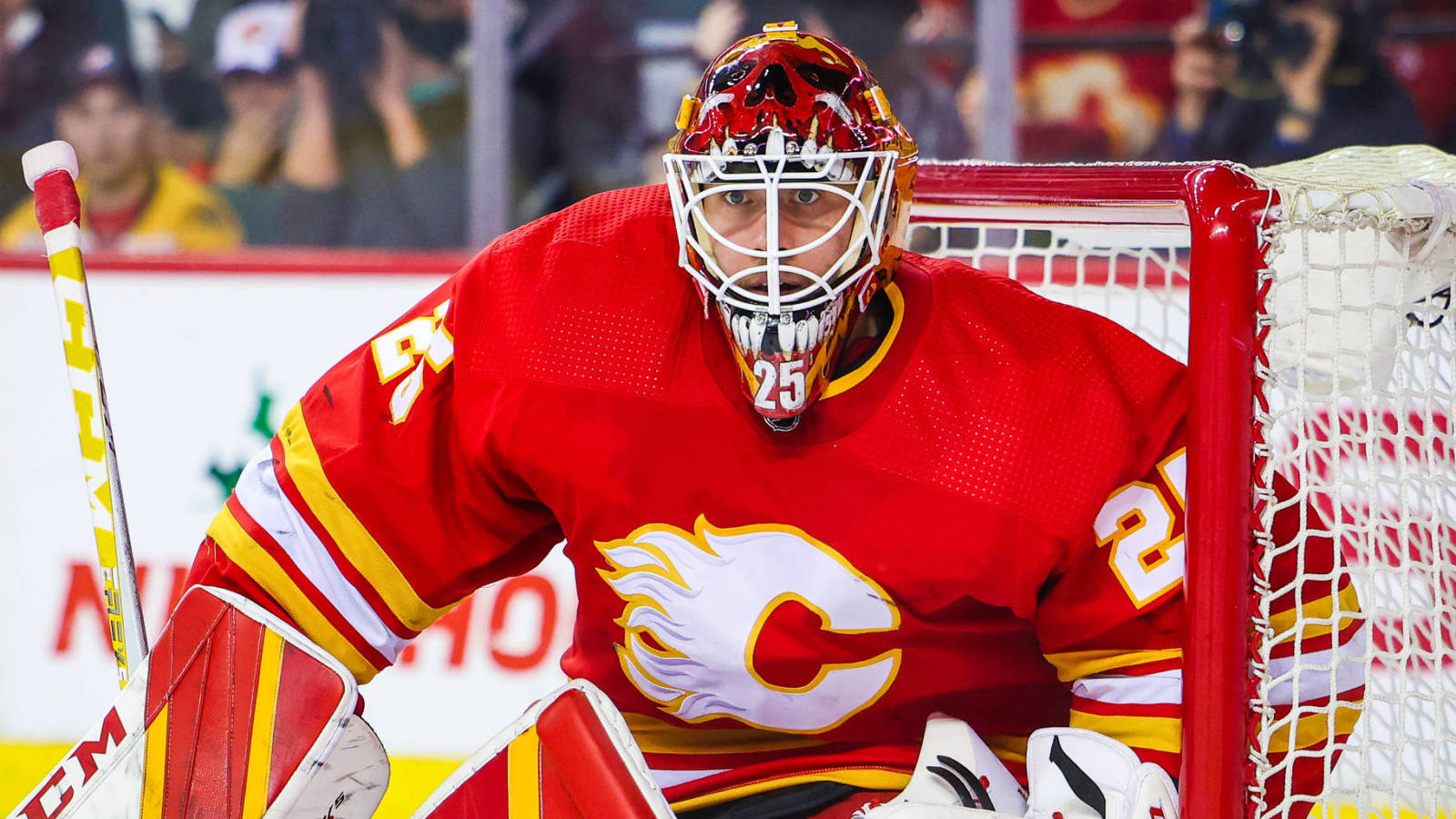 12 (Previous Ranking: 17th) Los Angeles Kings: Jonathan Quick & Cal Petersen
I didn't see this one coming: Jonathan Quick has reasserted himself as the No. 1 goaltender of the Kings. Quick still plays the game in a unique, freeform manner, but he's been in a zone all season. Surprisingly, Petersen has struggled. His 3.10 goals-against average is in stark contrast to Quick's 2.11 GAA.
13 (Previous Ranking: 5th) Vancouver Canucks: Thatcher Demko & Jaroslav Halak
The Canucks have been hot garbage defensively but somehow Demko & Halak have managed to maintain respectable numbers. Demko's .915 save percentage and 10 wins in 22 starts is somewhat astonishing. Halak's 0-4-1 record doesn't reflect his .910 save percentage.
14 (Previous Ranking: 1st) New York Islanders: Ilya Sorokin & Semyon Varlamov
Barring a miracle, it's a lost year for the Islanders. One bright spot has been Sorokin, who despite his team's struggle to win games has been very good. He owns a .924 save percentage in his second season in North America. Learning English has improved his communication. Semyon Varlamov started the year injured and has yet to find his game.
15 (Previous Ranking: 12th) Nashville Predators: Juuse Saros & David Rittich
Saros has complete control of the crease in Nashville and continues to put his team in contention for a berth in the Stanley Cup Playoffs. I like the precision in his movements – it leads to his consistency and top-end puck tracking ability. Rittich's numbers took a hit from one bad game where he allowed six goals. But he's hardly seen the net.
16 (Previous Ranking: 22nd) Washington Capitals: Ilya Samsonov & Vitek Vanecek
Samsonov has been the go-to goaltender for the Capitals of late and he's starting to show why he was chosen 22nd overall in the 2015 NHL Draft. He's won 11 of 12 starts. Injuries have slowed his progression, but he's finally looking comfortable in North America. Vanecek has had a disappointing year. His -2.7 goals saved above expected is a big reason why he's only won four of 13 starts.
17 (Previous Ranking: 28) Boston Bruins: Jeremy Swayman & Linus Ullmark
I think Swayman is destined for stardom in the NHL. He's done it at every level previously. He's been streaky, but Swayman currently boasts .922 save percentage. Ullmark started slowly, but has won three of his last four games. Despite the recent success, he still has a -1.3 goals saved above expected. If Ullmark can stay healthy I'd expect that number to improve.
18 (Previous Ranking: 27th) Philadelphia Flyers: Carter Hart & Martin Jones
What started off well has recently gone down in flames as the Flyers lost 10 straight games before rebounding for wins in Vegas and Arizona the last two nights. Like last season, they're hanging their goalies out to dry. Hart and Jones were both in the top half of the league analytically until the slide. Hart was smiling and confident. Jones was back on track after being bought out in San Jose. I'm not sure where it goes next.
19 (Previous Ranking: 6th) Vegas Golden Knights: Robin Lehner & Laurent Brossoit
Lehner carried the Golden Knights early in the season when the team had a myriad of injuries, but lately he's looked passive and frustrated. He's won only three of his last eight starts and owns a 3.10 goals-against average. Despite that, he still has a 2.2 goals saved above expected. The Golden Knights have been very loose defensively. Brossoit has won four straight games and his relatively quiet style seems to be a good fit in Vegas.
20 (Previous Ranking: 15th) Columbus Blue Jackets: Elvis Merzlikins & Joonas Korpisalo
These two goalies have been battling for the top job for a while now and  Merzlikins has now claimed it. Columbus is scrappy, but the only reason it's within striking distance of a Stanley Cup Playoff spot is Merzlikins. Korpisalo has yet to find the structure necessary to be consistent in the NHL. Daily Faceoff's Frank Seravalli recently listed Korpisalo as his No.1 trade target in the NHL.
21 (Previous Ranking: 23rd) Anaheim Ducks: John Gibson & Anthony Stolarz
Gibson has played often and gotten points in 15 of his 21 starts. But he's allowed four or more goals eight times this season and his -1.0 goals saved above expected is concerning. I think his aggressive depth and flow works against him, especially on lateral plays. But he's the guy in Anaheim. Stolarz owns a .928 save percentage and a 2.2 goals saved above expected in seven starts.
22 (Previous Ranking: 29th) San Jose Sharks: Adin Hill & James Reimer
It feels like the Sharks are trying to force Adin Hill into being an NHL starter, but I'm not sure he'll ever reach that status until his skating improves. Hill has started 14 games and only won six. His goalie partner, James Reimer, has started 13 and won eight. He owns an impressive 7.7 goals saved above expected. The Sharks would likely be in a playoff spot if they had played Reimer more often.
23 (Previous Ranking: 10th) Chicago Blackhawks: Marc-Andre Fleury & Kevin Lankinen
It couldn't have been a worse start in Chicago for the three-time Stanley Cup winner Fleury. His first win of the season came in his sixth game. The Blackhawks might have been the worst 5-on-5 team I've ever seen under since-fired head coach Jeremy Colliton. Fleury's -3.9 goals saved above expected is a byproduct of it. But he's won seven of his last 10 starts and his .913 save percentage continues to rise. Lankinen has had a season to forget thus far, but should improve.