Sports
Myles Turner clarifies comments expressing frustration with Pacers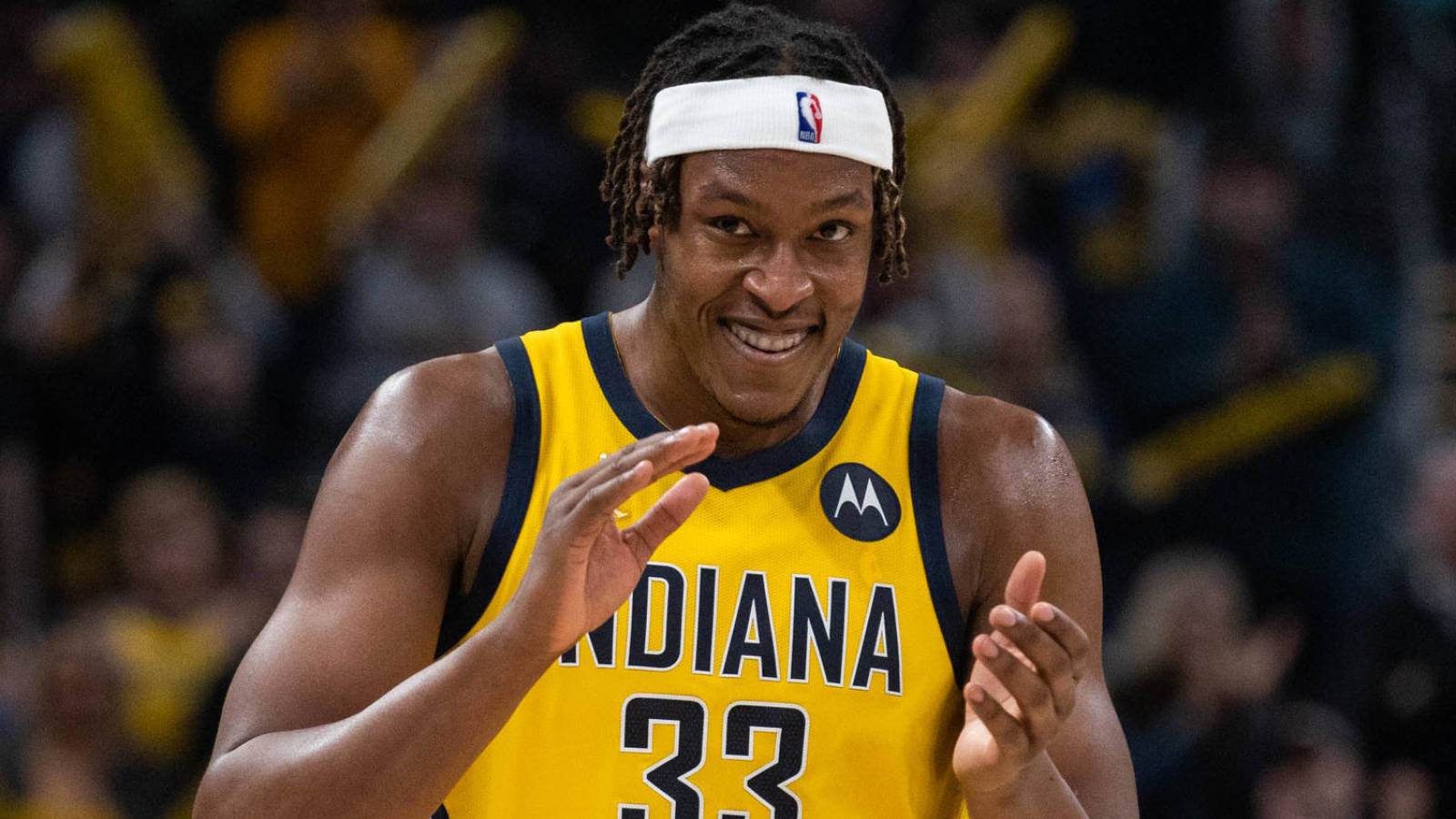 Pacers center Myles Turner reiterated his desire for a bigger offensive role on Friday but also made it clear he's not seeking a trade, according to James Boyd of the Indianapolis Star.
Turner has discussed his role with the staff and appears to be satisfied with the tone of those conversations.
"It's easy for me to sit here and say I want to shoot the ball 20 times a game. Everybody does. There's only one ball out there," Turner said. "There have been active conversations about me 'asserting myself' more. … We don't really run a lot of plays …. We get a lot of our stuff off of the flow of our offense, and that's not even what I'm asking. I'm not asking for individual plays. It's just role clarity. That's the best way I can describe it. Those are the candid conversations that I've had and it's made my job easier."
Turner raised some eyebrows with recent comments to The Athletic, saying he was frustrated with being a "glorified role player."
"It's clear that I'm not valued as anything more than a glorified role player here, and I want something more, more opportunity," Turner said on Thursday. "I'm trying really hard to make the role that I'm given here work and find a way to maximize it. I've been trying to the past two, three seasons. But it's clear to me that, just numbers-wise, I'm not valued as more than a rotational role player, and I hold myself in a higher regard than that."
Turner added he didn't want to be just a floor spacer and "hide in the shadows." Turner said on Friday he's just tired of doing the same thing every season and compared his desire for a bigger role with a media member seeking a better job.
 "You don't want to stay consistent at the same exact thing, going for four, five, six years. Eventually you're gonna want to move up, whether it be a promotion, whether it be a senior writer or (however) it works out," he said. "It's the same thing, how I addressed it. It's not like me saying, 'I'm demanding a trade.' It's not like me saying, 'Get somebody else out here.' It's none of that. All that was me saying that I know my worth. I hold myself to a high regard, and I expressed that."
The Pacers have won three straight and Turner has played a prominent offensive role the last two games. He had a 22-point outing against the Knicks on Wednesday and a 17-point output against the Mavericks on Friday.
Turner is averaging 13.1 points and 7.4 rebounds. Both numbers represent a slight uptick over his career averages. He also currently leads the NBA with 2.7 blocks per game and has hit 53.1% of his field goal attempts and 39.8% of his three-point tries. 
Even with the streak, Indiana is four games under .500 and there's been plenty of speculation the front office will shake up the roster. A report this week indicated Indiana was receptive to going into rebuild mode by trading veterans, with Domantas Sabonis, Caris LeVert and Turner being the most notable players available.
Turner's four-year, $80M contract runs through next season but it shouldn't be an impediment to a trade. He's the league's leading shot-blocker.
Sabonis says there's no issues sharing the floor with Turner.
"I think it works great. We love playing together," Sabonis said. "So as long as we're great on the court together and we feel great playing together, I don't think it matters."