Fashion
What ELLE Editors Are Actually Buying From Sephora's Beauty For All Event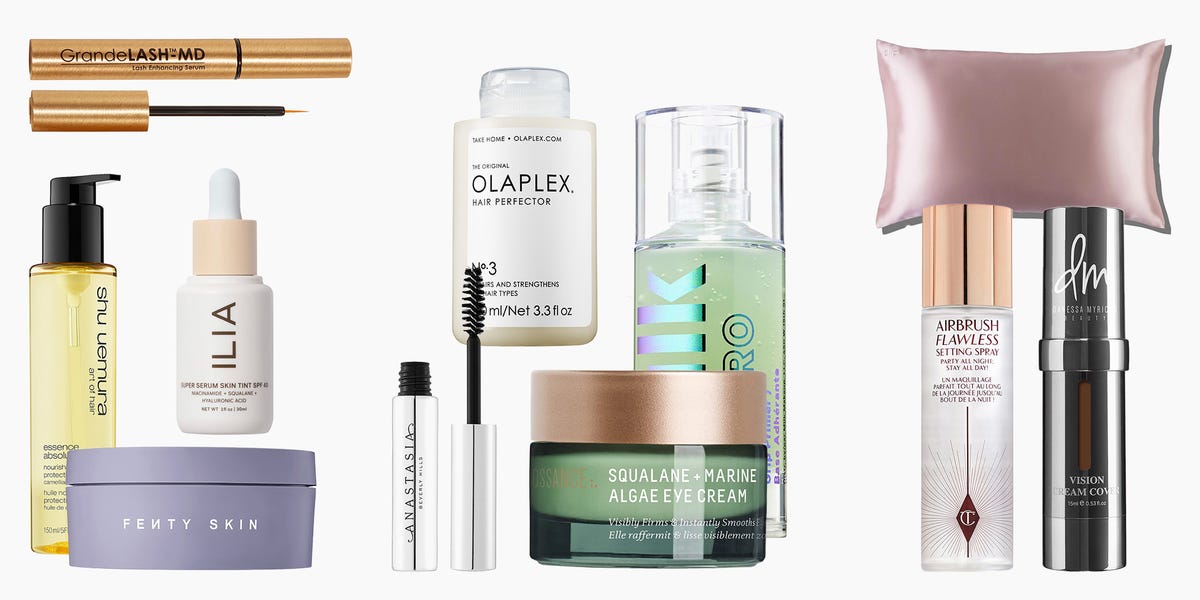 If you felt a tilt in Earth's axis this morning, it was thousands of beauty obsessive scurrying over to their laptop to spend their hard-earned money. Few things excite ELLE editors like spending our coins on beauty and fashion, and today, December 3, Sephora returned with a special sale to thank its customers for being good all year long.
Dubbed the Beauty For All event, for the first time ever Sephora is gifting customers 20 percent off for one week only, ending on December 12. Unlike its popular VIB Sale—in which each Beauty Insider tier receives a different discount—this discount can be applied no matter what tier you fall under. What's more, Sephora Collection will be 30 percent off.
The code to save is GIFTEASY. So, if you're stuck on what to buy during this sale, allow ELLE editors to point you in the right direction below.
1
Season to Sparkle 8 Piece Makeup Brush Set
"Whose going to wash all those brushes for you? Just buy another set." — NP
2
Rolling in Love
"If your goal is to walk out of your house smelling like a million bucks, you're gonna want to cough up a few hundred for this heavenly fragrance.  Warm and florals are all I need to see in a fragrance's notes list and I'm sold." — NP
3
Airbrush Flawless Setting Spray
"Pretty much everything in Charlotte Tilbury's "Airbrush" line is a godsend. I've gone through two full-size bottles of the Finishing Setting Spray—thanks to my UK makeup girlies who have clearly cracked the makeup code. But after watching beauty gurus rave about the filter-like effect of the powder, I knew it would be my next blind buy. Like brushing on the Instagram Paris filter, this powder seals your makeup in to leave you looking, well, airbrushed." — Nerisha Penrose, ELLE.com Beauty Commerce Editor
4
Vision Cream Cover Adjustable Foundation & Concealer
"Based on reviews, this foundation is a must-have. I'm not loyal to any foundation in particular, so whenever I see a new foundation product that piques my interest I simply add it to my cart. Danessa Myricks is a makeup magician known for making all her subjects look ethereal and godly. Here's to hoping this foundation will do the same to me." — NP
5
Butta Drop Whipped Oil Body Cream
"In the wise words of my favorite Real Housewives of Atlanta star, "Bye Ashy" is my mood for the winter months. Hydrating the skin during the colder months is no easy feat, but Fenty Skin's Body Butter doesn't back down from the challenge. This body butter is packed with seven different oils and leaves a glowy finish that looks like you just came back from vacation." — NP
6
Laneige Lip Sleeping Mask, Berry
"The way I scraped the bottom of the Laneige Lip Sleeping Mask in under a month should be illegal—it's just that good. Every night before bed, I swipe on a few coats of this moisturizing "mask" on my lips, which is really just a thiccc balm, and wake up with the juiciest lips ever. Laneige's Glowy Lip Balm has always been my top favorite product of the K-beauty brand, but this mask is a strong contender." — NP
7
Skin Perfecting 2% BHA Liquid Exfoliant
"If you're anything like me, you're still dealing with 'maskne.' This liquid exfoliant has been a lifesaver in clearing up congestion on my chin and around my mouth. Using a cotton round, I swipe it all over my face, focusing on my more acne-prone areas, and then I follow up with a nice moisturizer. Start by using it once a day or every other day, and gradually work your way up because this stuff can be a bit drying." — Emily Burns, ELLE Assistant Beauty Editor
8
Rice Enzyme Powder
"Rice water has been all the rage on TikTok for growing shiny and healthy hair, but it's also a hero ingredient in skincare. The whole Tatcha range is known for using rice water, but this daily enzyme powder is definitely my favorite. The rice granules gently slough away dead skin leaving your skin baby smooth and glowing. Plus, it's gentle enough to use morning and night!" — EB
9
Hydro Grip Primer
"This might be the only makeup product I swear by! I have pretty dry skin, and when I apply foundation or concealer, I often have some flaky spots. But with this slightly sticky primer, my makeup glides on smoothly and stays all day. Since it's an everyday essential, I might even grab a few during the VIB sale." — EB
10
Ultra Repair® Cream Intense Hydration
"Must New York be so… cold? There's no escaping it, unfortunately, making many of us suffer from dry/brittle skin. My holy grail is First Aid Beauty's Ultra repair cream. It's fragrance-free and great for sensitive skin. Plus, it's perfect for your body, hands, and feet." —Leah Romero, ELLE.com Senior Digital Designer
11
Squalane + Marine Algae Eye Cream
"Let's not neglect your eyes! Another must-buy is the Biossance eye cream. I apply it day and night for an added dewy-eyed look." — LR
12
No. 3 Hair Perfector
"After almost 28 years (but who's counting?), I've decided it's finally time to do something about the persistent halo of frizz that surrounds my hair. My first stop? The ELLE.com staff favorite, Olaplex. I'll be getting the No. 3 Hair Perfector and might also throw in the No. 8 Bond Intense Moisture Mask for good measure." — Madison Feller, ELLE.com Staff Writer
13
No.04 Bois de Balincourt Candle
"This happens to be one of my best friend's favorite candles and, as she has informed me on many an occasion, this is one of the only times it goes on sale. I'm planning on stocking up for at least her Christmas present, if not several others. (And if you're interested, there's also a matching perfume.)" — MF
14
GrandeLASH™ – MD Lash Enhancing Serum
"After years of watching my best friend transform her lashes from short and straight to fuller than an American Girl doll using Grand Lash, I'm finally taking the plunge and testing it for myself. This sale is the best time to be a lab rat for products I've mentally kept in a waiting room." —Justine Carreon, ELLE.com Senior Market & E-Commerce Editor
15
Regenerating Hair Mask with Prickly Pear Seed Oil
"Having gone from black hair to platinum to black again, my hair routine dramatically changed over the years. I'm finally trying to be one of those Hair Girls, with luscious locks and a routine that aims to maintain the healthiest state possible. One product that carried over from my blonder and yonder years is this Christophe Robin mask. My hair isn't nearly as brittle as it was before, but because I spend 2-3 days a week surfing, a serious treatment is still necessary. CR makes the Rolls Royce of them all. " — JC
16
Detox Shampoo
"To my surprise, my hairstylist recently told me that I needed to shampoo more. Specifically, he said to find a detoxifying one that cleanses my scalp since my skin tends to be overproductive. I love the Ouai in general, so next up on my docket is this one. I haven't tried it yet, but with over 1,000 reviews I'm feeling pretty confident that it's going to be my new favorite." — JC
17
Anastasia Beverly Hills Clear Brow Gel
"I've been trying to find a clear brow gel that competes with this one for years, but I've never found it. It doesn't flake, it lasts all day, and I'm constantly re-buying it." — Tatjana Freud, ELLE.com Beauty Writer
18
The Rich Cream with TFC8® Face Moisturizer
"It's time to really slather on moisturizer, but I sadly ran out of this cream before the winter months. It's one of the only skincare items I constantly crave so if it's on sale, I'm buying it." — TF
19
Essence Absolue Nourishing Protective Hair Oil
"My colorist raves about this hydrating hair oil, and as a new blonde, I need all the moisture I can get. It never leaves my hair feeling weighed down, and since it's clear, it doesn't mess with my new color." — TF
20
Silk Pillowcase – Standard/Queen
"Do I already have a collection of several silk pillowcases? Yes. Will I keep buying more? Also yes." — TF
21
Pure One Step Camellia Oil Cleanser
"I kept wondering why I wasn't wearing a lot of makeup recently, until I remembered that I ran out of this cleansing oil. It's one of the only products I've found that completely removes any trace of makeup–including mascara–without leaving a weird residue on my skin." — TF
22
Airwrap™ Styler
"Without fail, every time I see someone who's used the Dyson Airwrap, I am fooled into thinking they got a blowout. Joke's on me, but not for long!" — Claire Stern, ELLE.com Deputy Editor
23
Super Serum Skin Tint SPF 40 Foundation
"My tried and true. I love this foundation – it has a blurring effect that covers up imperfections and makes my skin look smooth and glowy, and it lasts the whole day. And the fact that it's a clean beauty line is a big plus."  — Erica Gonzales, ELLE.com Senior Culture Editor
24
Soy Face Cleanser
"I started using this face wash as a sample that I kept in my gym bag, but now I've gone full send and use it twice a day. It's gentle, clean, and doesn't dry out my skin. Pro tip: go for one of the value sizes; you'll get more bang for your buck for a few dollars extra." — EG
This content is created and maintained by a third party, and imported onto this page to help users provide their email addresses. You may be able to find more information about this and similar content at piano.io
Source link